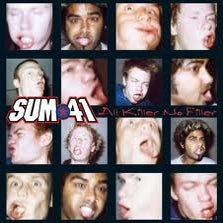 $

18.99
4th Pressing - Shipping the week of 11/20/14!
It would be a mistake to view Sum 41 as just another second-rate band cashing in on the early-'00s punk-pop boom, even if it did recruit Jerry Finn to produce All Killer No Filler. Just as Finn had done for both blink-182 and Green Day, he charges Sum 41's punk-pop with a razor-sharp edge, the sort of dynamic in-your-face sound that helps this music cross over to MTV and radio so well. Besides the notable production, a lot of credit should go to the band as well. Its songwriting is obviously more diverse here than it was a year earlier on its debut album, Half Hour of Power; for example, the group's rap and '80s metal influences rise to the surface more frequently here than on that first album and instill a fun sense of camp. "Fatlip" is perhaps the best example of how Sum 41 has made an effort to diversify the music with more than just power chords and melodic punk vocals.
Available for the first time ever on vinyl in North America, and contains the hit singles "Fat Lip" and "In Too Deep"
pressing info:
1st press
Black /150
Red / 180
White /308 (Shopradiocast Exclusive)
Blue /557
2nd Pressing
Mystery color / 400
3rd Pressing
neon Pink / 418
Green / 107
4th Pressing
444 - Pink
100 - Yellow
****Due to licensing restrictions we can only ship this item to US addresses****